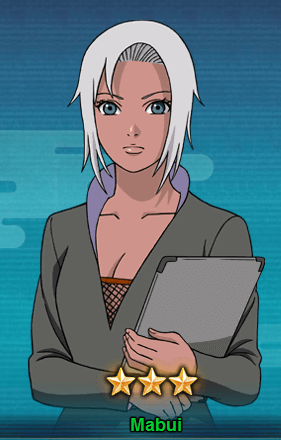 Mabui was a kunoichi from the Village Hidden by Clouds and assistant to the Fourth Raikage. She had an unique ability to transfer items to a long distance in lightning speed. Her ability was a great help when Ay[Fourth Raikage] and Tsunade transported to the battlefield during Fourth Shinobi World War.
Mabui died along with Shikaku Nara and Inoichi Yamanaka when the Ten-Tails fired Tailed Beast Ball at the HQ of Shinobi Allied Forces.
Let's take a look at the abilities of  Mabui
Attribute: Lightning
Special Abilities: [Healing] [Sleeping] [Buffs for Water and Lightning Ninja][Chakra Recovery]
Chase Effect: [Knockdown]
Chase Trigger: [Knockdown]
Number of Chases: 1 Chase
Mabui Abilities Overview
| | | |
| --- | --- | --- |
| Mystery | Ninjutsu | Ninja Art – Lightning Transmission Jutsu [Prompt]: Cause Ninjutsu damage to the selected opponent's uni and Knockdown. If killed by this skill, the unit will not resurrect. |
| Standard Attack | Ninjutsu | Healing Jutsu: Heals 1 unit with the least Life from your team and disperse all Debuff on him. |
| Passive | Ninjutsu | Report: Recover 40 chakra points before action. Can be triggered twice at most each round. |
| Chase | Taijutsu | Secretary Fight: Chases and Attacks a Knocked Down unit, causes Knockdown. |
| Passive | Ninjutsu | Defender of Hidden Cloud: At the beginning of a battle, generates a Shield up to 9 Lightning or Water attributes ninjas from your field based on 30% of this unit's Resistance base attribute. |
How to get Mabui
You can get Mabui from the Kage Treasure. It will take almost 10 seal scrolls draw to get Mabui.