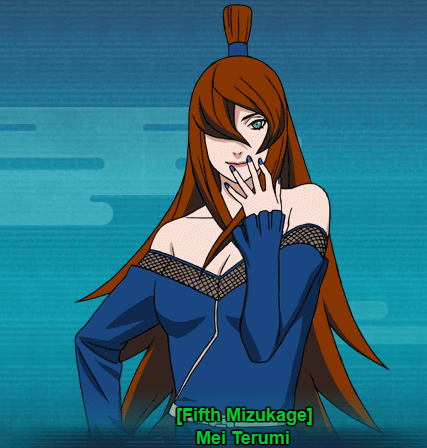 Mei Terumi is one of the strongest Water ninjas in Naruto Online game which will be a great addition to Water Main teams. Mei Terumi is the Fifth Mizukage of the Kirigakure ( Hidden Village by Mist) of the Land of Water.  I got to admit that she is one of the hottest female ninjas not only in the game but also in Naruto anime.
Attribute: Water
Special Abilities: [Buff Fire] [Buff Water] [Increase Damage to Male Ninjas]
Crowd Control: [Immobalize] [Acupuncture]
Debuffs: [Ignition] [Poison]
Chase Effect: [Low Float] [Knockdown]
Chase Trigger: [Knockdown]
Number of Chases: 1 Chase
[Fifth Mizukage] Mei Terumi Abilities Overview
| | | |
| --- | --- | --- |
| Mystery | Ninjutsu | Vapor Style – Acid Explosion: Cause Water and Fire attributes damage and causes Ignition up to 7 opponent's units and Low Float |
| Standard | Taijutsu, Ninjutsu | Water Style – Flowing Wip: Attacks the opponent's front row and has the chance of a 3 COMBO, Knockdown, and Acupuncture. |
| Passive | Ninjutsu | Charm: Increases damage to Male characters by 25% |
| Passive | Ninjutsu | Vapor Style Barrier – Solid Fog Jutsu: Launches barrier at the beginning of a battle. Increases Attack and Ninjutsu for all Ninjas with Water and Fire attributes from your team by 40%, Causes Poisoning to 2 individual units each round. |
| Chase  | Ninjutsu | Lava Style, Dissolving Jutsu: Chases and Attacks a Knocked Down unit, causes Low Float and Immobile. |
How to Get [Fifth Mizukage] Mei Terumi?
As Mei Terumi is one of the strongest and rarest ninjas it requires at least 120-150 seals draw from Kage Treasure. However, you can also purchase her from events like Lucky Star Wheels.
If you're a paid player, you can easily purchase ingots and spend on drawing seals. As for the free players, if you're serious about getting Mei Terumi, make sure to have Water main team with other ninjas like Sailor Sakura, Fifth Hokage Tsunade and Roshi [Four Tails Jinchuriki].
The addition of Mei Terumi will make your Water main team stronger if you have the other ninjas mentioned earlier