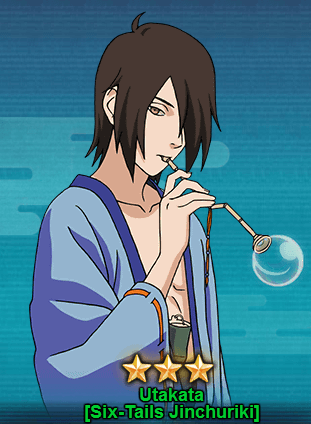 Utakata is the Jinchuriki of the Six Tails from Village Hidden by Mist. However, he defected from the village during the "Bloody Mist Era". Utakata [Six-Tails Jinchuriki] was reincarnated using Edo Tensei during the Fourth Shinobi World War along with other Jinchurikis.
Let's take a look at the abilities of  Utakata [Six-Tails Jinchuriki]
Attribute: Water
Special Abilities: [Poisoning] [Recovers Health] [Generate Shield] [Immune to Debuffs]
Chase Effect: [Poisoning] [Repulse]
Chase Trigger: [20 COMBO] [Knockdown]
Number of Chases: 2 Chase
Utakata [Six-Tails Jinchuriki] Abilities Overview
| | | |
| --- | --- | --- |
| Mystery | Ninjutsu | Toxic Foam Outburst [Prompt]: Causes Water Attribute damage up to 9 of the opponenet's units (including a selected unit) who are suffering from Poisoning. The selected unit will also suffer from Knockdown. |
| Standard Attack | Taijutsu, Ninjutsu | Bubble Attack: Attacks the opponent's  units in the front row and has fixed chance of 10 COMBO. |
| Chase | Ninjutsu | Water Style – Toxic Foam Jutsu: Triggered with at least 20 COMBO, attacks 4 of the opponent's units with Water attribute damage and will cause the units to suffer from Poisoning. |
| Chase | Taijutsu | Foam Voyage: Chases and Attacks a Knocked Down unit, causes Repulse. Will also generate shield for this unit based on this unit's Resistance base attribute. |
| Passive | Ninjutsu | Tailed Beast Chakra: Before the first action in a round, recovers Life points based on this unit's Ninjutsu attribute. Becomes Immune to all Debuffs. |
How to get Utakata [Six-Tails Jinchuriki]
You can get Utakata [Six-Tails Jinchuriki] from the Jincurikki Treasure 2. It will take almost 60-70 seal scrolls draw to get Utakata. However, I've seen him available on certain events. Maybe you might get chance to get him using coupons on some of the weekly events.