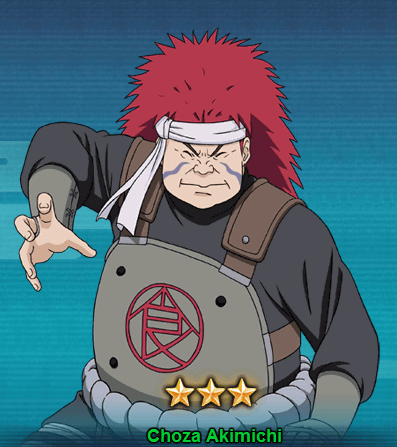 Choza Akimichi is the fifteenth head of Akimichi Clan and the father of Choji Akimichi. He is also the team mate of Shikaku Nara and Inoichi Yamanaka. He made huge contribution to the Fourth Shinobi World War.
Let's take a look at the abilities of  Choza Akimichi.
Attribute: Earth
Special Abilities: [Life Recovery when Chakra recovered] [Increase Attack and Defense]
Chase Effect: [Knockdown]
Chase Trigger: [Low Float]
Number of Chases: 1 Chase
Choza Akimichi Abilities Overview
| | | |
| --- | --- | --- |
| Mystery | Taijutsu | Super Expansion Jutsu: Cause Ninjutsu and Taijutsu damage against up to 4 of the opponent's units and Knockdown to the selected units. |
| Standard Attack | Taijutsu | Expansion Jutsu: Attacks the opponent's front row and has a chance of 3 COMBO and the cause of Knockdown. |
| Passive | Ninjutsu | Akimichi Secret – Recovery: Increase attack and Defense, whenever receiving in a Healing Rate. |
| Passive | Ninjutsu | Chakra Swallowing: Recover Life by 10% when your own team recovers Chakra. |
| Chase | Taijutsu, Ninjutsu | Spiky Human Boulder: Chases and Attacks a Low Floated unit, causes Knockdown. |
How to get  Choza Akimichi
You can get Choza Akimichi from Space-Time Shop. It will cost around 1500 Space-Time points for 5 Choza fragments. You can get Choza from Elite Instance : Body-Soul Separation.